Cinderella Man, Oh, Man
Sharon Waxman
reports
that the powers-that-be at Universal are scratching their heads about the failure of their Summer Movie Sweepstakes entry--
Cinderella Man
--to recoup half of its $88 million cost in
two weeks of wide release
.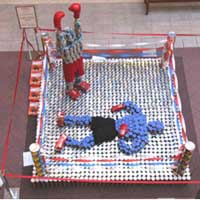 The expensiver they are, the harder they fall

Yeah, wow,
great
question, guys. Let's think about it:
--You plunked your June 3 release date square between
Star Wars
and
Mr. & Mrs. Smith
, two of the most eagerly-awaited films of the year. You went relatively head-to-head with
The Longest Yard
, a remake of a comedy that had a built-in audience from
30 years ago
. Which reminds me...
--Lugubrious boxing dramas aren't exactly "summer fare," gang. The last successful boxing film to get a summer release was
On the Waterfront
in 1954, when Marlon Brando was about as bankable a star as there was--even moreso than Russell Crowe. Which reminds me...
--
Your
Oscar-winning leading man alienated your biggest market by chucking a phone at a hotel desk clerk. I can guarantee you more New Yorkers saw
Crowe in handcuffs
on the front page of the tabloids than watched (or even heard about) his Letterman mea culpa. Which reminds me...
--The movie is a sentimental, treacly piece of shit.
But who knows? Maybe Brian Grazer can pick Sumner Redstone's brain about the whole mess when he finishes
humping him
later this summer.