IFC Center: Free Test Drive
This is probably not what the folks behind the new
IFC Center
had in mind. On the Sixth Avenue theater complex's opening night, staff seemed to outnumber guests three-to-one, the projectionists' union stood by protesting the theater's eschewing of union labor and Harvey Weinstein dropped in just long enough to kick the tires and declare the place a winner.
The old Waverly balcony, 114 French-upholstered seats later. (Photos: STV)

Nevertheless, it was a hell of a party, and the Center—a curious and luxurious hybrid of theater/production facility/bistro—received overwhelmingly positive reviews from those on hand, including Weinstein, Naomi Watts, Rebecca Miller and James Dolan, the Cablevision scion whose subsidiary
Rainbow Media
owns the Independent Film Channel and wielded the capital that got the brand's bricks-and-mortar (um, make that stucco-and-glass or something) outlet off the ground at the site of the old
Waverly Theater
.
IFC Entertainment President Jonathan Sehring praised Dolan and dedicated the center before a gathering of more than 400 people.
It is Jonathan Sehring's world, and you are just living in it...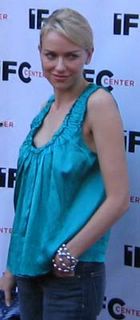 ...until Naomi Watts arrives, at which point my money is on the movie star.
"We set out to do more than build a movie theater," Sehring said. "We really wanted to create a home for the New York independent film community. What better place could we be than in this historic theater, which is so near and dear to many of our hearts? Or in Greenwich Village, which is the epicenter of the independent film world?"
Right. Not that there's any real trace of the Waverly left (with the exception of the restaurant's name, "Waverly at IFC," which seems a little derivative of the actual
Waverly Restaurant
three blocks away, but whatever), but it is nice that some of the heritage continues and that IFC takes the legacy seriously enough to give it a state-of-the-art update.
Director
James Toback
lingered for while in the main theater, munching on sushi and studying the Center with awe. "It's gonna put every other theater to shame, and it's going to be a challenge to every other theater to renovate itself," Toback told The Reeler. "Because why would you ever—except for the movie—why would ever want to sit in the Film Forum? Any movie you can get on DVD?"
It seems like a bold, even combustible statement, but keep in mind that Toback has the experience of a native New Yorker who grew up with the historically high standards of city cinemagoers. "All those great, old theater palaces were there when I was a kid," Toback said. "I mean, the
Loew's State
was a great theater, the
Roxy
was a serious theater.
Radio City Music Hall
,
TransLux
. There were a lot of really comfortable, beautiful theaters that are gone, but this shows what you could do. I mean, why can't the Angelica and the Sunshine be comfortable like this?"
An image of
Klaus Kinski
flashed on the theater's screen. "Oh, look at Klaus!" Toback paused for a moment, gazing up through his dark glasses at the famously temperamental (some would just say mental) actor he directed in 1982's
Love and Money
. "I'm the only guy alive who directed both Klaus and (his daughter) Nastassja. He was a wild lunatic, and he's terrific in the movie. He's only in it for 20 minutes, but every minute he is on the screen, you can't take your eyes off him."
Did Kinski ever threaten to kill Toback, as he had his frequent collaborator Werner Herzog?
"No," Toback said. "But he threatened to kill
Ray Sharkey
, who was a lying scumbag junkie and who supposedly was off heroin during the movie, but wasn't. And Klaus caught him and pulled the needle out of his arm, slammed him down on the ground, kicked him in the stomach and said, 'If you ruin my friend's movie, I'm going to come back and kill you.'
"Ray came to me crying afterward and said, 'Jimmy, the guy is a maniac. He almost killed me.' And I said, 'Well, he found you with a needle in your arm.' And he said, 'Yeah, but you don't kick a guy and slam him down.' And I said, 'Get over it, because (fear) will show in your performance, which is already weak.'"
Not much later Toback was gone, having left behind a room of anonymous, martini-guzzling men in suits. Attempts to get quotes from Dolan were stalled ("Mr. Dolan, congratulations—I didn't know you were such a champion of independent cinema." "Tawk tuh my publicist."), and Harvey Weinstein had quietly exited long before that—much more quietly, anyhow, than the interview he gave IFC camera crews outside the Center, where the
Projectionists Union Local 306
spooked him by heckling, "IFC hates workers. Harvey, how can you support this?"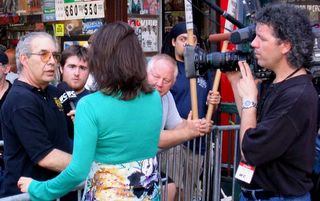 Projectionists union rep Barry Garfman (L) tells the kids at home to keep it reel.
Harvey Weinstein, gone in 60 seconds.
I do not know what is behind the union's claims, but the atmosphere inside left me a little disinclined to find out. After all, this is the type of event where you can overhear successions of surreal exchanges like this one:
"Oh, hel
lo
! I've never seen you in America! I've only seen you in Cannes."
"No. Cannes and Sundance."
I can neither tell a lie nor make up something as terrifyingly sick as that. And when cretins such as the ones who bear responsibility for this exchange surround an answer man like Jon Sehring, even the most emboldened reporter would flee in terror.
But not before checking out the theaters upstairs, which were far smaller than the first-floor auditorium and are more plausible as screening room—which is fine, considering the Center's overall purpose as a host to filmmakers as well as filmgoers. The chairs are reminiscent of first-class airplane seats (not that I would know anything about that), made of various synthetics and even a few leather seats in the smallest theater, which in some ways felt too small, like an overboard home theater.
Ladies and gentlemen, our inflight movie today is Me and You and Everyone We Know.
Meanwhile, guests were not allowed to visit the third floor editing suites, which were guarded as though Naomi Watts was changing her clothes upstairs. In reality, I never learned where Naomi disappeared to, nor did I give it too much thought after my chat with the mad genius Toback. I had Klaus Kinski on my mind, imagining his depraved ghost arriving on scene to ravage the bar and swing at people with union pickets. Now
that's
a party.
The new kid, all tuckered out.