Write If You Get Work
No matter how much writers lives depends on selling what they write, their natural inclination is to not even bother. If we wanted to sell—had the nerve, skill, comportment, whatever—we would be salesmen first, writers second and make a better living. I think I'm right on this. I should be querying editors and agents right now, in fact.
This would explain Bob Verini, the giant who shepherded about 300 writers through the five-minute bursts that composed this year's
New York PitchXchange
. While classes and seminars upstairs at NYU's Hemmerdinger Hall provided the theory—the well-honed witchcraft that supposedly provokes tingles in the groins of jaded production executives—Verini's booming voice supplied the morale before actual practice.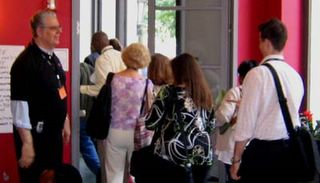 Pitch! Pitch! Pitch! Pitch! The unsinkable Bob Verini (L) exhorts his team to greatness, or at least to the next room. (Photos: STV)

"You've got to bring up the energy," Verini bellowed. "You've got to go right over to that table, hold out your hand, introduce yourself and start talking before you even sit down. Start talking to them. When the one minute warning is called, get ready so that when time is up, you can get up out of the seat immediately—even if you are in mid-sentence, finish it off. Sidestep, shuffle, shuffle. The next person will sit down. That's the way it works."
Verini coaxed and admonished, half coach, half bouncer: Don't offer unsolicited anything. Not a script, not a treatment, not a resume, not even a business card. Then he opened the door to the pitch room, standing aside and waving the team inside. "OK, 10:10, you're on your way."
This surge of advice seemed almost too scattered to do anything but deflect off the blank faces of many of the participants on hand. After all,
Scr(i)pt Magazine
(the event's sponsor) had brought in some big names: You've got
MTV
's reality show division,
CourtTV
, the
Oxygen Network
,
Bad Boy Entertainment
and a few dozen other film and TV companies of varying budgets and taste. The pitchers murmured, mouthed and reclined in preparation for their big moments, of which most of the writers on hand had purchased five in advance for $125.
By the time The Reeler arrived on the scene at 10 a.m., many of the attendees had pitched at least once, though virtually all were still experiencing some variation on gut-twisting nervousness
"I know my story," said Diane Gitler, a science teacher who had traveled into Manhattan from Middlesex, N.J., to pitch her reality/education hybrid
Science Knowbodies
. "I know what I want to say, now it's just a matter of the point I want to get across."
Would she like to practice on The Reeler?
"No."
Gitler eventually explained that the show would send two families on vacations to desirable destinations with a high concentration of unusual natural phenomena. The families then compete to pass along the greatest wealth of information to the viewer. "They have to go from being nobodies—N-O-B-O-D-I-E-S—to being knowbodies."
Across the room, while Gitler continued describing the show, Paulina Plazas stared straight ahead rehearsing lines under her breath. Her hands folded, unfolded, fingers clasped, unclasped. Her head moved subtly, most of the action generated from her eyes. She had done this before, and spent the previous week preparing for anything.
If talking to yourself were a crime, Paulina Plazas would need a lawyer.
"I've been waiting, working on rewrites. Then you're changing and changing to make it more interesting and more marketable," Plazas said. "They ask what's so unique about your story, what should make them want to be interested in it. Why is it important to you as a writer? Are you flexible to changes on the script? Some people aren't."
If you can't be flexible on one script, you can always do what 23-year-old Michael Flynn does. The Chelsea native says he has as many as 10 ideas to tailor to the companies themselves, from a racially charged football story to a Sophocles adaptation. Before I could ask what separates a football exec from a Greek tragedy exec, Scr(i)pt marketing director Zack Gutin stepped into the Silverstein Lounge to tell the gathering that Branded Entertainment had just joined the event. The company had recently worked on an animated version of
Batman Begins
and was seeking stories for future animated projects.
So there you go, Michael. You have you animated-film treatment ready to go?
"Yeah," Flynn laughed. "Actually, I do."
Preparation was clearly the keyword, no matter how solemn the lines that formed near Verini in those brief five-minute cycles actually got when they sank into their goofy, silent rigors. With that in mind, it was refreshing to find a couple of guys like Harry Yotis and Dave Quintas, a pair of 33-year-olds from Montreal who left for New York at 1:30 a.m. after finishing their reality-show proposal a few hours earlier.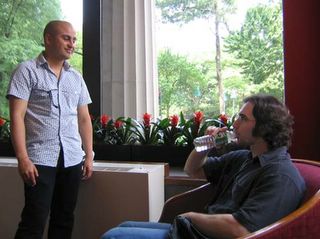 Dave Quintas and Harry Yotis have their Canadian flags ready to brandish if they sell anything at the PitchXchange.
"We're very organized," Yotis said, grinning. "We figured we would have more adrenaline pumping to carry us through if we did it this way."
"I didn't even know this thing went on," Quintas said. "You called me like, what, a week ago?"
"Yeah, well, we were already prepared."
As we discussed their propensity for clubgoing and its role in their pitch, another Verini blast overtook the room. "What you're selling is you!" he shouted. "Your idea may be of no use if someone is already making it. It's up to you to keep the energy up! If they like your idea, they get the idea and a fun person. If they don't get your idea, they get a fun person."
Yotis watches him. "He looks like my high-school principal," Yotis said. "Gilbert Plaw. 'Now, Harry, when we go to New York for lit class, we want you to behave.' "
At 11:40, the pair entered the pitch room. Seconds later, a few of their linemates re-emerged to check the hyper-sophisticated, hand-scrawled diagram detailing the room's lay of the land. This type of detour eats into their pitch time, and their frustration nearly glowed in their faces.
The "terrifying rejection" table? Oh, sure: up two rows on your right, between "abject humiliation" and "glassy-eyed nodding." Go get 'em!
Gitler possessed nary a trace of frustration the next time I saw her. She beamed and held up her treatments. "I handed out two treatments," she said. Evidently, Piranha Pictures and Front Row Productions considered giving her show a closer look. She added that the Oxygen Network had liked the idea but was in the market for scripted programs.
But two bites is a great showing. And so now you are off to Middlesex?
"No, I'm going back," she said, gesturing to Verini's frazzled, shifting huddle. "I'm psyched! I know I'm not nervous anymore." Then she walked away—sidestep, shuffle, shuffle, ready to go.